Live Blackjack is one of the best ways to play at Golden Reels. Live Blackjack has it all: Live interaction with other players, the chance to win because of your knowledge as opposed to luck alone, and of course the atmosphere of a real casino. This article tells you everything you need to know to start playing Blackjack right away. If you already know the basics, you can read other articles on the Golden Reels Blog where we've shown you the ins and outs of different strategies.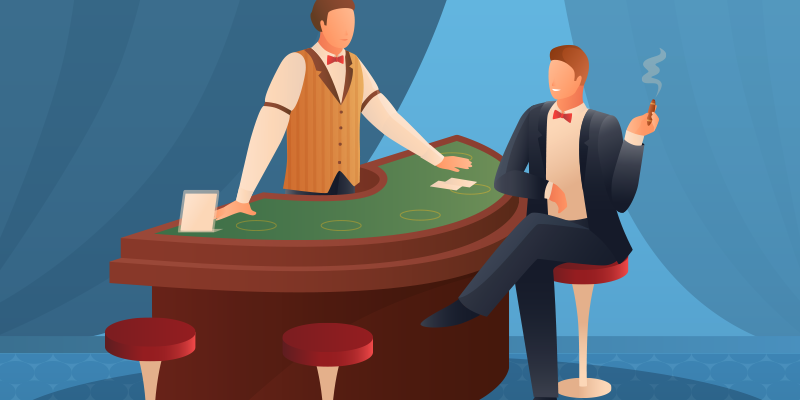 Rules for Blackjack?
Live Blackjack is set up exactly the same way as its offline version and has exactly the same rules. In order to start playing, you'll need to log in to the official Golden Reels website, register your account if you don't already have one, log in to your account and then go to the Live Casino section. After that, you can choose one of the offered tables and take your virtual seat. There are only 7 seats at each table, but each dealer has multiple copies, so you don't have to wait. Just go to another page, or wait if you want to play with that particular dealer. 
Let's move on to the basic rules of the game. The game involves decks of 52 cards, and sometimes the croupier mixes several decks at once, and they don't mix until a certain point. Each card has its own denomination. All cards with pictures are equal to 10, Ace counts as 1 or 11 at the discretion of the player, and all the cards with numbers correspond to the face value. The player's goal is to collect a combination of cards that are equal to 21 or collect more than the dealer, not exceeding 21. Initially, the dealer deals the player two cards closed, and himself deals one closed and one open card. Then the player looks at the cards and decide whether he will finish more. At his behest the dealer can give him one more card several times, after which he will play with their cards. If the dealer scored less than the player or the player has already gained 21 points, the bet is considered won. Each player plays solely against the dealer and has no influence on the other players at the table.
Benefits of Live Casino Blackjack
Modern technology makes it possible to get maximum enjoyment from the online format of the game, and given that it is not inferior to the offline version, it only remains to highlight its advantages.
The feeling of a real casino. Live Blackjack is as close as possible to the game in a real casino. The visual component of the online room fully repeats the interior of the game room, and a friendly croupier will keep the mood by live communication. And most importantly, enjoy this type of game you can not leave home.

The variability of bets. Blackjack at a live casino allows you to make a wide variety of bets. The range of bets allows you to put both small amounts and large sums of money. Together, these factors allow you to strategize your play, enjoying a long time or playing a risky game with a better chance of winning big. 

Professional dealers (croupiers). If you always wanted to feel like a VIP player, then specially trained dealers will please you with their professionalism. Experienced and friendly, they not only comment on the whole process of the game and help players by answering all questions, they can also maintain a live communication, allowing you to spend time not alone.

HD quality Streaming. Modern technology makes it possible to guarantee that you will not have problems with connection, picture or sound. 
How do I get started playing Blackjack?
Playing Live Blackjack is a unique experience that we suggest everyone try. Below we have listed, step by step, all the things you need to do, from registering, to getting your payout.
Log in to the Golden Reels website. Log in to your account or go through instant registration.

Deposit money and get your bonus. You need to make a deposit before you can play. Go to your account, and then to the Cashier section. Choose one of the specified payment methods and deposit funds into your account. When you make your first deposit, you will definitely receive an extra bonus that you can also use to play.

Choose a blackjack table with a live croupier. You will find many blackjack tables in the live casino section. Click on a table to check availability and start playing.

Place your bet. As long as the bets are open you can do any action that the interface allows. Choose the most likely outcome and bet your money.

Keep playing and win real money. Continue to enjoy the game. Interact with people at the table by asking questions or just chatting. Play your hand and wait until the end of the round. Stop the game when you decide you've had enough.

Withdraw your winnings. To experience the full extent of your payout, it's best to withdraw the money you've earned. Do this with your account, just as you deposited it into your account.