Hello, Dear New friends! 
We perfectly know that sometimes new things can scare us, especially if it's required to fill some forms and input personal information, first at all lets us assure that Golden Reels casino is 100% official (GR online casino is fully official business in Australia, operating under Curacao Master Gaming License # 5536 / JAZ) and follow all Australian personal data protection act! 
Soon you will know how to Login to Golden Reels! We bet that the "Sign In" button will be your favorite, soon!
In this article we want to guide you through the registration process to simplify your life and increase your satisfaction with your experience. 😊 
So, all starts from to open https://goldenreels.com/
Stages of registration in Golden Reels
All right, you already took the first step, keep it up! Now you see on the monitor or on the smart device screen this: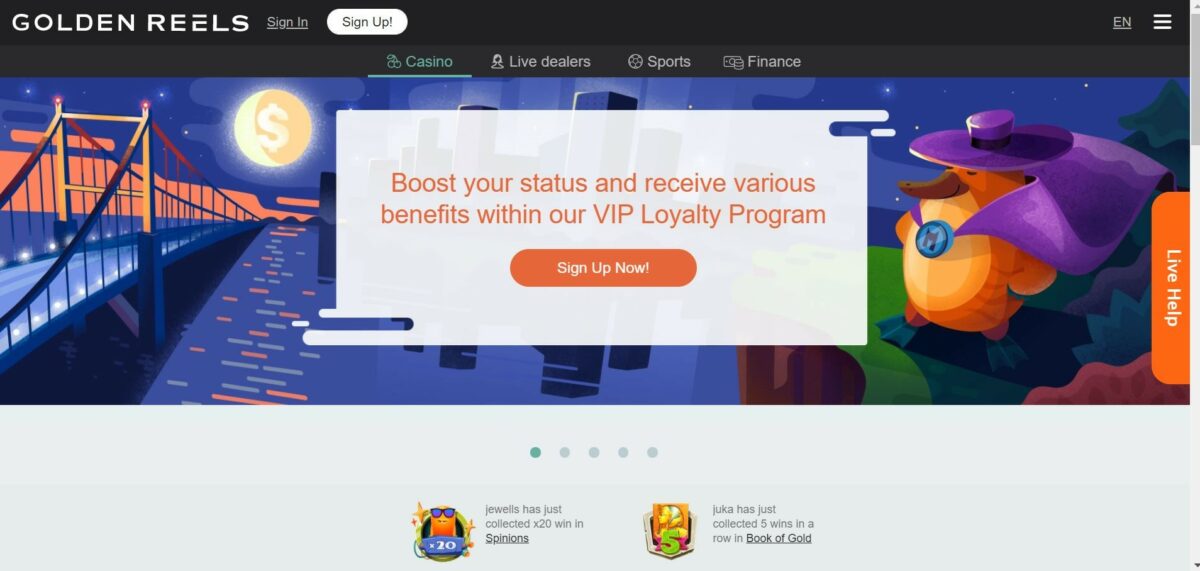 As today we are covering registration essentials, so we assume that you don't have an account with us, so please hit "Sign Up!" button! After you will see this Registration form: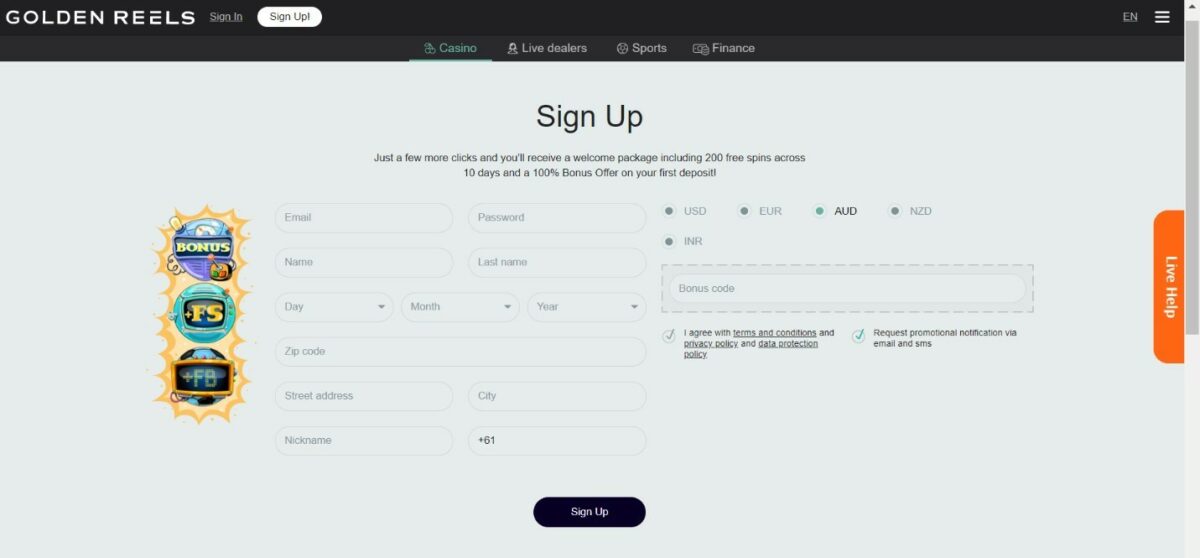 The registration form covers all essential fields about you, but to make sure that it's 100% clear, we would like to highlight all the fields meanings: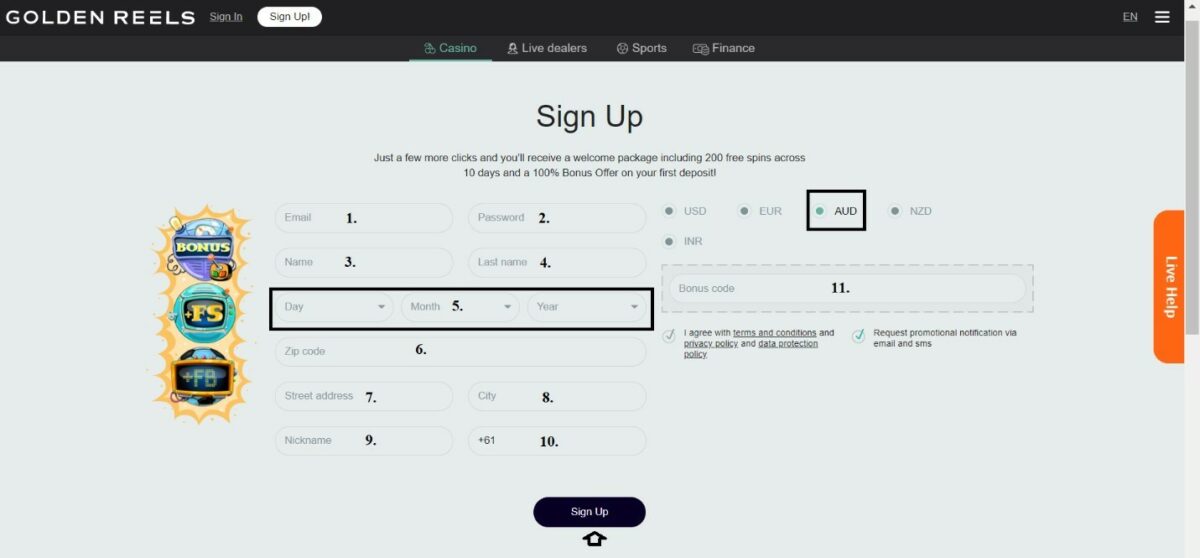 Please enter the valid email, just to remind, you'll need to confirm it after registration. (Please double check that you have access to this email).

Create a strong and unique password using Core Principles of Password Security:
 At least 8 characters—the more characters, the better.

 A mixture of both uppercase and lowercase letters.

 A mixture of letters and numbers.

Inclusion of at least one special character, e.g., ! @ # ? ]

Note: do not use < or > in your password, as both can cause problems in Web browsers.
Enter your Passport/ ID Name (Please keep in mind that name must be real to avoid any verification issues)

Enter your Passport/ ID Surname (Please keep in mind that surname must be real to avoid any verification issues)

Please enter your Date of Birth as in your Passport/ ID (Please keep in mind that Date of Birth must be real to avoid any verification issues)

Enter ZIP code of your actual residential address

Enter Street and housing number address, where you are actually living now

Enter your City of living

Please think and create a unique NickName (You will be displayed on our website under this NickName, it must be unique so if your derided NN is already occupied, please try to slightly modify it 😊). i.e. Goldie v.s. Goldie_Strong

 

Your Australian mobile number. Please enter the real phone number, which you actually have access to, if you have some enquiries or help from our side, we might contact you.
Before we move on to the next point, let me say a few words about currency options. It will be activated in AUD by default as Golden Reels is truly an Australian enterprise. But to make life more flexible, we have added other currencies that are accepted around the world. Check out the Payment method. So, you can choose whatever you want!
To make it more interactive and fun from the start use promo code to get 10  free spins upon completing the registration.
Congratulations, one of the codes for $ 7 - HW772VJOZHI3I
And registration is over at GoldenReels 😊
We do really that this information was helpful!
See ya in the online casino battles!